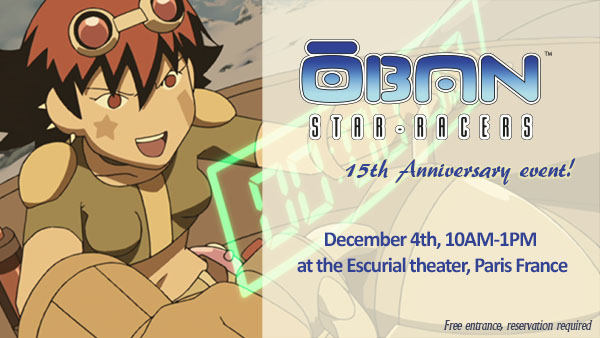 Fifteen years ago, the Franco-Japanese anime Oban Star-Racers started airing worldwide.
Organized on December 4th 2021, at the Escurial movie-theater in Paris, Oban's 15th anniversary event was the perfect way to celebrate that very special occasion!

Here's a brief report:

Close to 200 fans were present, some of them having traveled from abroad.
Savin Yeatman-Eiffel, Oban's creator, producer and codirector, started the event by remembering the series' atypical development process as well as his original artistic intentions.
He was then joined on stage by Stanislas Brunet, Oban's talented head backgrounds and mecha designer, to discuss the production of the series in Japan as well as the creation of its pilot film: Molly, Star-Racers.
If we are celebrating Oban's 15th anniversary this year, one shouldn't forget it is also (already!) the 20th anniversary of the award-winning short film that started it all, and that was, at the time of its release, a huge success on the internet, several years before the advent of Youtube.
Thomas Romain, Oban's artistic director and codirector, took part in the event from Tokyo, standing in front of the building where the series' Franco-Japanese teams used to work when the production took place. Thomas emotionally recalled how Oban changed is life twice: the first time by introducing him to the world of animation, the second time, by allowing him to come and work in Japan, where he still lives today.
Gabrielle Jéru and Rémi Caillebot, the French voices of Molly and Aikka, got on stage next to discuss their experience working on Oban. A live dubbing test took place, first with members of the audience voicing Molly and Aikka, and then with Gabrielle and Rémi, who displayed the full range of their huge artistic talent.
The next guests, were our friends of Sky Isles Studios. They presented the trailer of Oban Dreams, a beautiful game (and free!) adaptation of Oban for the Playstation 4 & 5 game environment "Dreams".
A new game, developed for PC this time, is also in the works and the audience was able to watch a first promising short teaser.
As had been announced, Savin then pitched several possible options for Oban sequels or spin-offs, which he's been developping with Thomas and Stan. A very fruitful Q&A followed with the audience.
Last but not least, Savin announced that the Crowdfunding campaign for Oban's Blu-ray would be launched in February 2022 on Kickstarter, and he presented the content of the in details: native HD 4/3 format at 24 f/s  /  11 dubbed languages : English 5.1, French 5.1, Japanese, German, Russian, Latin Spanish, Latin Portuguese, Italian, Dutch, Turkish & Polish*  /  English & French subtitles /  Collector edition featuring new mini-artbook!
After a giant "Chande to Shine" karaoke, the event concluded with the screening, for the first time in the series original format (4/3, 1080p, 24 f/s), of 3 episodes that fans had chosen beforehand on Twitter: episodes 1, 8 (in Japanese!), and 11.
More discussions took place between the team and the fans, in the theater and later outside.
Thanks to all who attended. For those who couldn't make it, the whole event was filmed by the great Alex Pilot and should find its way on the Blu-ray as a bonus!