Road to Tokyo
– the production "adventure"
he series' creator/producer, Savin Yeatman-Eiffel, came up with the original idea for the series in 1997.  Moved by the Japanese animated series that had marked his youth: Future Boy Conan, Candy Candy, Captain Harlock, Savin wanted to give back to today's kids some of the emotion he had received at their age, and that he could no longer find in recent productions he'd been working on as writer and series creator since he left film school. Determined to be completely true to his original vision: a sequential story, a female heroine, a real emphasis on emotional content, he started his own company: "Sav! The World Productions". It was the beginning of a long obstacle course…
SR's artistic team gradually came together as the young company grew. Savin Yeatman-Eiffel (creator, writer, director) was soon joined by Thomas Romain (head character designer, director, artistic director) and Stanislas Brunet (head mecha and background designer), as well as Loic Penon (character designer). Together they produced the 2001 award winning pilot film "Molly, Star-Racer" (LEAF AWARD winner, nominated for best editing Imagina 2002). Several years before the advent of YouTube and similar streaming services, the short film became an instant hit on the internet. Yet investors were still reluctant to back the young team on such an ambitious project – one to be produced in a mix of traditional and CGI animation, and for the most part in Japan.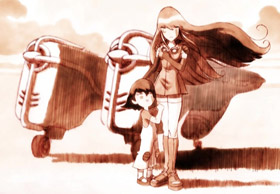 n response, the close bunch literally "locked itself up" in Savin's apartment turned studio and, accepting service work only when absolutely necessary, continued to fine tune the world of OSR down to its smallest details.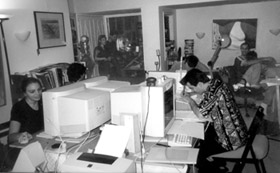 In 2003, the team's dedication to the project finally paid of. Savin successively convinced major international partners to embark on the adventure along side STW: Jetix Europe, France 3, Super RTL, as well as, very unusually so, the Japanese distributor Bandai Visual.
At the end of that year, the artists of STW left family and friends to move to Tokyo and benefit from the famous know-how of the Japanese animation industry. They would stay there for two and a half year, working hand to hand with their Japanese collaborators, while the CGI production (and later on the sound postproduction and voice recordings) took place in Paris. This has been a one of a kind experience – one could even call it "a grand adventure". If there has been a few rare co-productions with Japan in the past, it was the first time a full team of artist came to Japan to work and collaborate with the Japanese artists at this level – an experiment that hasn't really been repeated since either.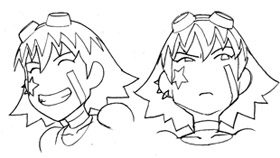 f course working in Japan is not easy: travelling costs, language and cultural barriers, gulf between the respective work habits, very long working hours – 12 to 13 hours a day, 6 days  a week if not more. This unusual set up required a great deal of patience and tenacity from both the French side and the Japanese side (Hal Film Maker, the studio behind the series Princess Tutu and Strange Dawn). But the end result was well worth the effort – the creation of a successful and very unique series that is still remembered fondly by all of those who saw it.