Thanks to a long restauration process and to the outstanding support of more than 4000 fans during our crowdfunding campaign on Kickstarter in 2022, Oban fans and anime enthusiasts can now enjoy the award-winning Oban Star-Racers series for the very first time in its original HD FORMAT– the way it was always meant to be seen.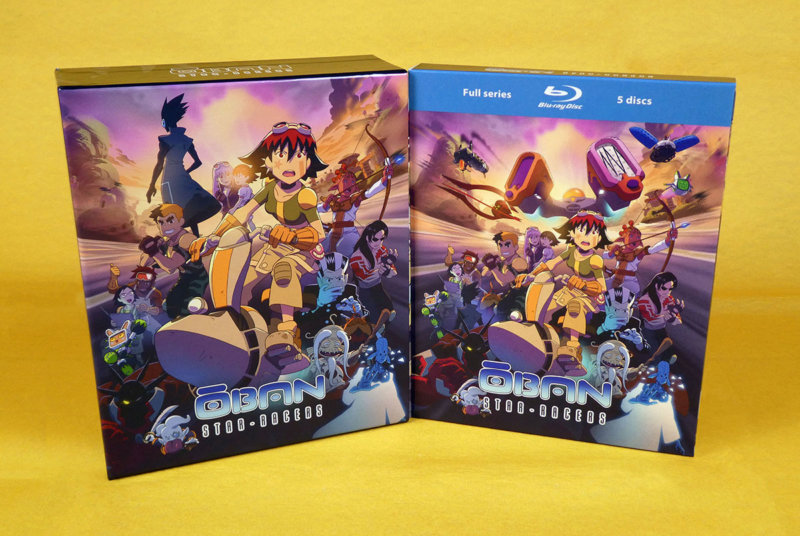 The Blu-ray release comes in two different formats, REGULAR and COLLECTOR edition including:
– all 26 episodes on 5 discs (1080p, 4/3, 24f/s)
– 11 dubbed languages (English 5.1, French 5.1, Japanese, German, Dutch, Italian, Latin Spanish, Latin Portuguese, Polish, Russian and Turkish).
– English and French subtitles, including for hard of hearing
– more than two and a half hours of bonus features, including the remastered Oban Making of and a host of new featurettes!
– a REGION FREE format ensuring you can read the discs on any Blu-ray player (including Playstations 3/4/5)
And for the Collector edition only:
– a rigid slipcase
– a 5 panel digipack
– a 120 pages hardcover art-book
– a 41 x 33 cm poster
– 3 collector cards
As the stock of remaining Blu-rays gradually dwindles, don't wait too long to be sure to get yours – and to benefit from our exclusive online bundles with the series' 50 tracks digital soundtrack (available in both Flac and mp3 format) !
Delivery wise, please note our orders:
– are US and EU friendly (shipped locally from within the US or the EU) ensuring you won't pay any extra tax or fees in those territories.
– will be packed and shipped at regular intervals, every two weeks or so (every month for the UK).